2020 Kawasaki Ninja 1000SX review, test ride
Every now and then, a deal comes about that seems a little hard to believe. Like when Kawasaki announced that the 2017 Ninja 1000 would be brought down as an SKD and priced just under Rs 10 lakh (ex-showroom). For a fully faired 1,000cc four-cylinder motorcycle, it was a super-tempting price, and the big sports tourer sold in quite decent numbers. 
For 2020, the Ninja 1000 gains an SX suffix to the name, as well as a fairly substantial upgrade, including a Euro 5/ BS6-compliant motor. We had the opportunity to take one of these new bikes from Mumbai's Anzen Kawasaki out on a long ride to see what it's like, and it turned out to be an enjoyable day. 
All day long
Usually, a full day out on a sporty 1,000cc bike can be quite painful on our roads, but the Ninja 1000SX is different. This bike has always had a nice riding position that balances sportiness with reasonable comfort, and the 2020 model doesn't change that. What's new is a set of thicker, cushier seats, something I enjoyed over the 13hr we spent together. The new seats have raised the seat height, though, and while Kawasaki India claims it's 820mm, it feels a little higher than that. Again, this is something I like, but the seat height will put-off short riders.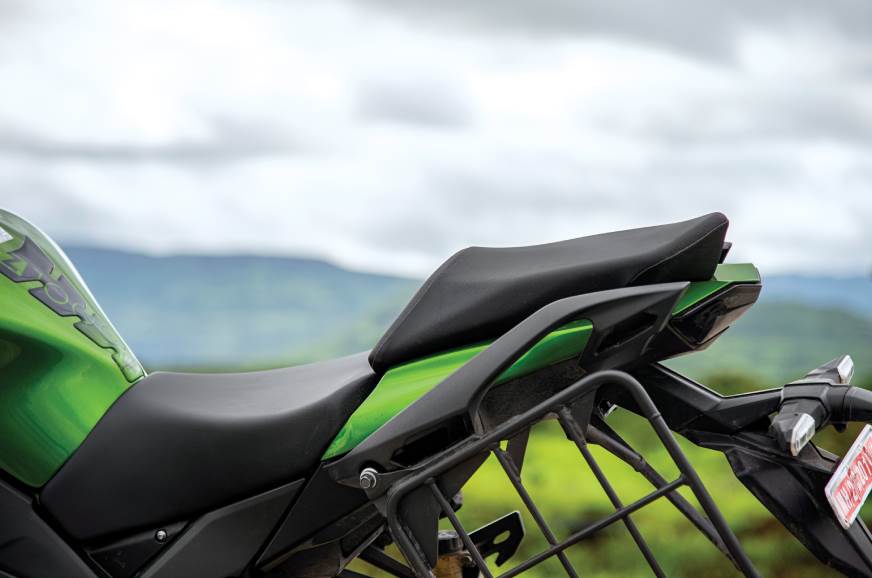 New seats are taller, more comfy.
With its spacious seats, chunky 19-litre fuel tank and 238kg kerb weight, this is a large motorcycle, definitely more so than your typical litre-class superbike. At the same time, the open riding position and generous turning radius make it much easier to live with. With the current traffic situation and weather conditions, I won't be able tell you just how hot it will get in a city commute, but the bike handles itself well through traffic, and the mirrors can be folded in if you want to filter through tight gaps. 
What makes this bike a little easier to ride over its predecessor is that the steering rake angle has been reduced by half a degree. This has resulted in a front end that doesn't feel quite as heavy and requires lesser effort at the bars. It's a seemingly small change, but the effect is clearly noticeable, both in the city and out on the twisties. With a vast 1,440mm wheelbase, the Ninja 1000SX still feels rock solid at cruising speeds. In fact, this bike makes for a beautiful long-distance machine, the many reasons for which we'll dive into next. 
Smooth like velvet
Kawasaki consistently makes some of the smoothest in-line fours out there and the Ninja 1000's motor feels almost electric at low RPMs. There are some high-frequency vibes that creep in when you rev it out, but at gentle speeds, the Ninja just hums along in a delightful manner. The new ride-by-wire throttle system is almost perfectly tuned and works smoothly, regardless of which of the new riding modes (Rain, Road, Sport and the tuneable Rider mode) you use.
The spec sheet still reads pretty much the same as before, with 142hp and 111Nm of torque, but Kawasaki put in a lot of work to get this 1,043cc motor to Euro 5/BS6-spec. The changes include new camshaft profiles, redesigned intake funnels, and a completely new exhaust system, with one end-can instead of the previous dual-exhaust design. 
Big single-sided exhaust sounds good!
What's particularly nice about this engine, and the way it's geared, is that it feels engaging, even at sane speeds. The redline is set at just 10,500rpm and the motor packs a walloping mid range, which means you don't have to rev it like a madman to have some fun. It's also really nice to see that the bike doesn't hide speed like many 1,000cc machines tend to do; 100kph feels like 100kph. Speaking of which, a 100kph cruise can be a calm and soothing experience, but the bike is just as happy screaming towards double the speed if the rider fancies.
When you're hard on the gas, the Ninja accelerates with a ferocity you'd expect from all that power, while the exhaust produces a loud scream to match. No matter how you chose to ride, the new up/down quickshifter is a welcome addition, even if it's not perfect – upshifts are great, but downshifts can occasionally be hesitant.
Float like a butterfly
So, the engine works well but, perhaps more importantly, what makes this bike gel with our riding environment is the suspension setup. The hardware is the same, so you get a fully adjustable 41mm USD fork and a rebound/preloadadjustable rear shock. However, Kawasaki has worked on the damping setup within the fork, resulting in a bike that feels plush in the true sense of the word.
Rear pre-load adjustment is easy.
The Ninja 1000SX floats down the road and happily soaks in all forms of rough patches. The substantial weight and wheelbase also mean it isn't very affected by grooves in the road or changing surface heights. In fact, it's easy to get carried away with how comfy the Ninja 1000SX is and with just 120mm of front suspension travel, you have to periodically remind yourself to be cautious with the front rim over sharp craters. The fact that there's only 135mm of ground clearance means that speed breakers demand a gentle approach as well; but, with some caution, I managed to get by the whole day without a single impact.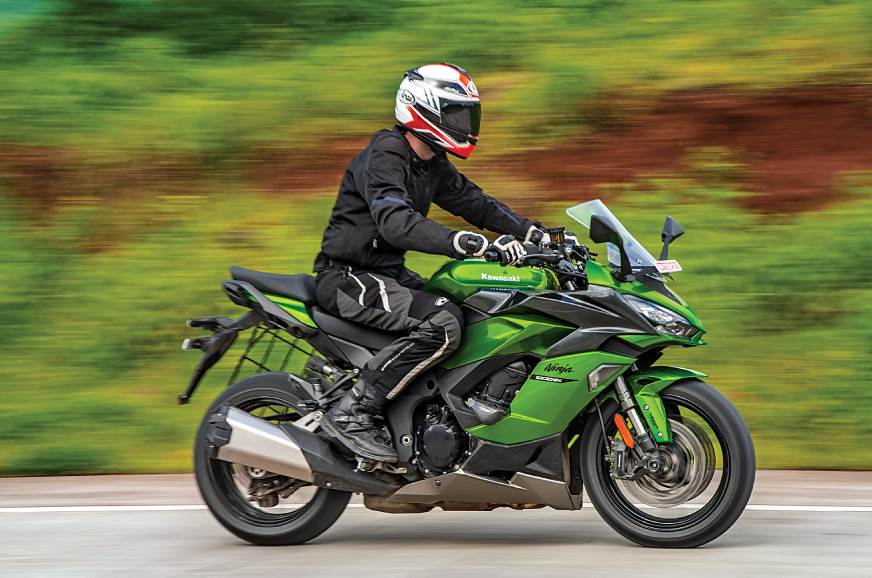 The riding position is sporty, but within the realms of comfort.
Aside from the potential ferocity of 142hp, the Ninja 1000SX is quite a friendly thing. There's softness to be felt throughout, be it the suspension, seat, quickshifter and even the initial bite from the twin-disc Nissin front brakes. At the racetrack, I imagine the Ninja will be able to keep its head above water, but this is clearly a bike that lives for the road.
When you do show it a few corners, the Ninja is willing to play, even if requiring a bit of muscle to throw around. The handling is quite enjoyable and the Bridgestone S22 tyres were excellent in the dry and reasonably confident when the roads were soaked.
More toys in the basket
Keeping the rider safe throughout is a refined, IMU-aided electronicassist package that now brings three riding modes, in addition to the previous three-stage traction control and two power modes. The bike also gets cornering ABS as standard, and while the overall electronics package isn't very lenient in terms of slip and front-wheel lift allowed (even in Sport mode), it is quite smooth in the way it functions. With the switch to ride-by-wire, Kawasaki also included a cruise-control feature, though we never found ourselves on the sort of roads where this could be properly tested.
New switchgear comes from the H2 SX.
Perhaps the most appreciable addition for most customers will be the new 4.3-inch TFT colour display. From up close, the resolution looks disappointingly low, but that doesn't matter because, from the rider's point of video, this screen is sharp, attractive and easy to read. You have two display modes and the screen has some funky information on offer, including max lean angle on both sides, front and rear weight transfer and even throttle/brake input levels. The last two are gimmicky because you're never going to safely be able to look at the screen in real time to see how much brake/throttle input you are making and how much the bike is pitching as a result of it.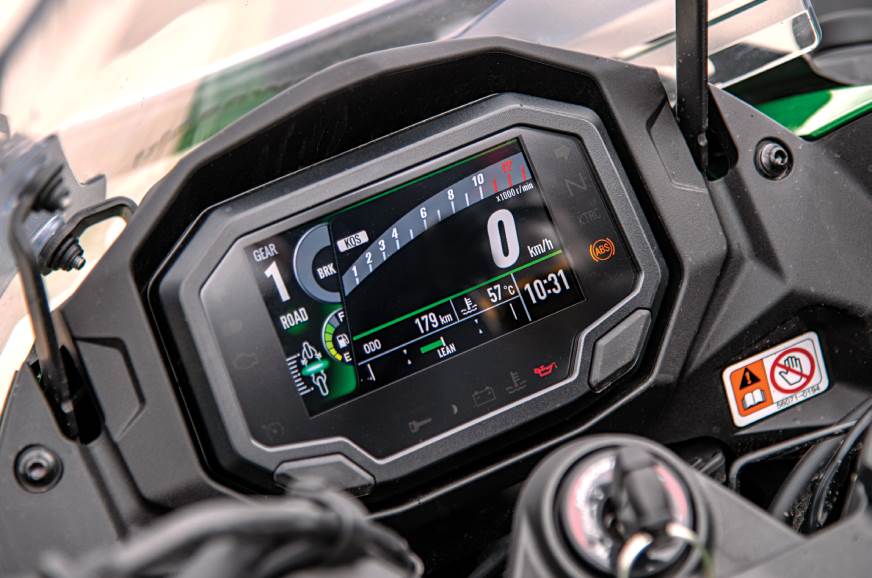 . 4.3-inch TFT is crisp, easy to read.
Everything mentioned above is standard equipment, and you can also download Kawasaki's Rideology app to access a number of Bluetoothenabled features. For a rather hefty sum of money, Kawasaki will even sell you optional panniers and a top box that are designed to neatly interface with the motorcycle.
Before we conclude, it's worth mentioning that there are a few visual changes as well. The indicators, switchgear and side fairing have all been redesigned and the mirrors are new, more easily foldable units. The windscreen is also new and can be easily adjusted by four ways, but you need to use both hands to do so. Kawasaki says that the design of the headlamp and tail-lamps is fresh as well, but aside from the new single-sided exhaust, the overall look is very similar to the 2019 model.
At Rs 10.79 lakh, the Ninja 1000SX has taken a fairly sizable jump in price, but it more than makes up for it, and remains the best VFM proposition in the big-bike space. If you want a 1,000cc sport bike experience for the road and you aren't interested in a twisted sadomasochistic experience of pleasure and pain, this bike ticks a lot of boxes.