Auto Trader urges dealers to 'hold firm' with Lockdown 2 used car prices
Car retailers have once again been urged to "hold firm" with their used vehicle pricing as England returns to a state of COVID-19 lockdown this week.
Measures taken to avoid product discounting during the UK's first coronavirus-prompted lockdown period – from March 23 to June 1 (in England) – were credited with maintaining a strong used car market when restrictions were lifted.
Now Auto Trader is calling for the same approach as its data shows that demand for used cars has yet to diminish.
Richard Walker, Auto Trader's director of data and insight, said: "The introduction of the second national lockdown in England and the 17-day firebreak in Wales is disappointing for us all, but not surprising given news over the last few weeks.
"Fortunately, businesses are far better prepared than they were in March and despite the restrictions, our data suggests consumer demand remains strong.
"As we stressed during the original lockdown, retailers should avoid the temptation to slash their prices in order to entice car buyers, as it simply isn't necessary and could have a lasting negative impact on the market."
The average number of retailers making daily price changes was 1,971 in October, according to Auto Trader's website data, 20% fewer than in October 2019 (2,467), and 9% fewer than September 2020 (2,164).
The average amount being changed on a daily basis was £277, which was a 16% decline on the same time last year (£320).
National Franchised Dealers Association (NFDA) chief executive, Sure Robinson, urged retailers to retain faith in the levels of consumer demand seen in the market. She said: "It is encouraging to see that average asking prices saw an increase in October demonstrating that consumer demand for used cars remains healthy, in particular for petrol and diesel vehicles.
"Despite the introduction of new restrictions, dealers have been receiving high volumes of online enquiries and this is likely to continue over the coming weeks".
Auto Trader reported in its latest retail price index report that October had marked seven months of consecutive growth for used car prices, with an increase of 8.6% year-on-year.
Meanwhile, the online marketing giant claims to have seen demand surge by 24.6% year-on-year, with 61.9 million visits in October.
Furthermore, news of the November 2 start of 'Lockdown 2' has driven a 17% increase in retailer leads, it said.
Its data contradicts that of used car pricing and insight specialist Cap HPI, which reported that the used car market had delivered a small decline of 2.1% on October 2019.
October pricing movements
The Auto Trader Retail Price Index – based on pricing analysis of over 900,000 vehicles – showed that the average retail price of a used car was £14,014 last month, marking an 8.6% year-on-year (YoY) increase on a like-for-like basis and seven months of consecutive growth.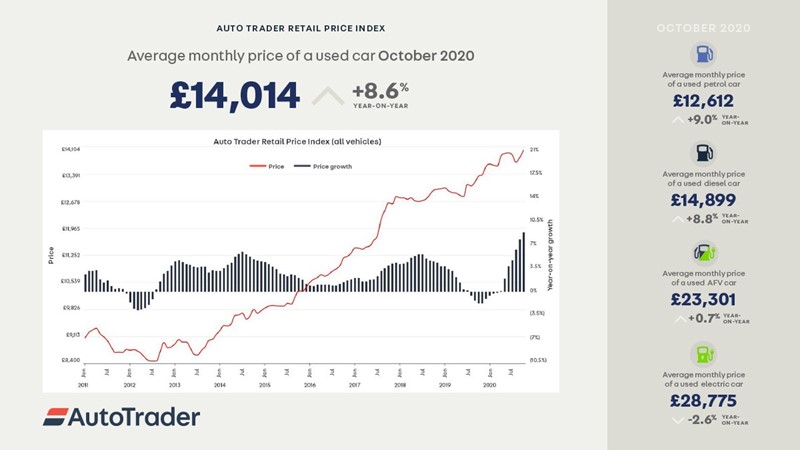 It follows the previous YoY records of 7.6% in September, and 6.1% in August, prior to which the highest rate of growth was 5.8%, observed in July 2014.
Last month the average price for a second-hand petrol car grew 9% YoY (£12,612), which is the highest rate of growth since February 2018 (also 9%).
Used diesel cars saw prices grow 8.8% (£14,899), which marks the fourth consecutive month of record price increases.
The Retail Price Index Report said: "Notably, the rate of growth for used diesels has doubled since July 2020 (4.1%), prior to which the highest rate of growth was 3.9% in July 2018.
"As highlighted in Auto Trader's Market Insight tool, the level of demand for used diesels is not as strong as its petrol counterpart – increasing 2.8% YoY in October, versus 14.0% YoY.
"However, there are far fewer in the market for consumers to choose from, with the level of diesel supply dropping 13.6% on the same period last year.
"It represents the steepest decline in supply of any fuel type, and by some margin.
Alternative fuel vehicles (AFVs) also saw a positive October, recording the first price growth since February 2020, which at 0.07% (£23,301) is a more subdued rate than its ICE counterparts.
Electric vehicles (EV) recorded their 10th consecutive month of price contraction, down by 2.6%, it's the lowest rate since February 2020.
Hatchbacks and MPV body types recorded the highest rate of value growth during October, according to Auto Trader, up 12.9% (£9,282) and 11.0% (£9,738) respectively.
SUVs continue to experience the highest levels of demand, however, recording a YoY increase of 18.1%, whilst supply fell 6.6%.
The average sticker price of an SUV was £19,367 last month, representing a like-for-like increase of 4.9% on October 2019.
Like-for-like prices continued to show strong growth across all age groups, with those aged between 10 to 15 years rising 15.7% (£4,382).
However, the same age group saw a notable dip in demand from September, falling from 12.1% YoY growth to a comparatively conservative 3.2% last month.