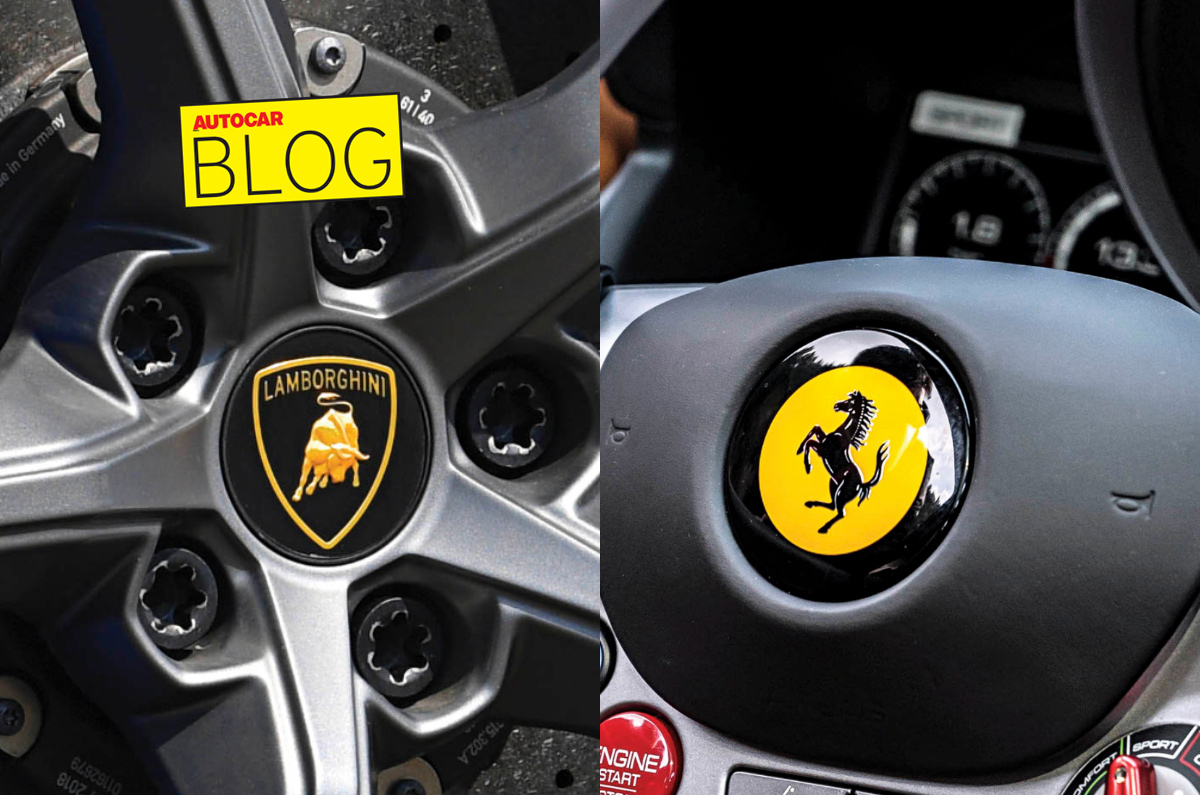 Last week, I drove a Ferrari all of Tuesday. Then, before I could work the synaptic mid-range responses out of my system, I spent half of Wednesday in the company of a howling Lamborghini. While the cars are clearly sat far apart at the supercar supermarket, here are a few random observations.
To begin with, both are obviously Italian, and all the better for it. There's a bit of German in Lambo, but since the Bavarians are equally cuckoo, we won't hold it against them. Both manufacture supercars and hypercars. Both make V12s with howling, operatic exhausts, both have successful mid-range models and both will soon have raised, 'off-piste vehicles' too. Both are also looking grudgingly at electrification, both are increasingly aware that design is becoming more and more important, and both are also practically neighbours. Maranello and Sant'Agata Bolognese are both suburbs of Modena, not more than 35km apart.
You'd imagine, then, that they are very similar; two peas in a pod, joined at the hip, of the same mother. And in some ways, you'd be right. But Ferrari and Lamborghini are also very different. Very, very different. Different in the manner in which they look at things, different in the way they attack a problem and different in how they execute.
Lamborghini, for one, is happy to be evolutionary. This is especially true when it comes to design. And why not? With the Countach, it probably has the greatest piece of automotive design DNA floating around the ether. Ferrari is anything but evolutionary, according to design head (and architect) Flavio Manzoni. And while Ferrari may have struggled in recent years due to the departure of the Michelangelo of automotive design, Pininfarina, designs like the SF90, Roma and F8 clearly show the tide is turning.
Then, there are the engines. Both kneel at the altar of the V12 and both have mastered the art. But both V12s also sound distinctive and very different. Lambo's are harder edged and angrier. This has always been the case. Ferrari's V12s sound smoother, sweeter, happier to rev. More ecstatic. They are nothing if not an ode to joy.
And while Lamborghini has stayed naturally aspirated with its V10, Ferrari took the bold decision to invest in a twin-scroll, twin-turbo V8 ages ago. Was Ferrari wise to give up its 9,000rpm, naturally aspirated V8 so early?
Then there is the manner in which they drive. While Lambos are stable and solid, and offer plenty of grip and four-wheel-drive traction, they are not nearly as sophisticated. There's a delicacy to the manner in which Ferraris drive. More agile, more willing, deeper and more layered. Modern Ferraris also stand out because of their brilliant driver aids; F1-trac and Side Slip Control, systems that help you go faster in a safer manner. And while Ferrari is also the more serious and more focused, Lamborghini is a bit more fun loving and cooler. Confused? You should be.