CitNOW cuts dealership noise from car dealer videos
CitNOW has enhanced the audio quality of car dealers' presentations with a new Dolby.io-powered Clarity offering after retailers rated video as their most valuable tool in 2020.
The video communications specialist's new features help optimise audio levels of videos created in the CitNOW Sales and Workshop apps by reducing background noise that may be heard in videos filmed in workshop or forecourt environments.
CitNOW chief executive, Alistair Horsburgh, said: "We're constantly listening to consumer feedback and exploring new ways to improve the customer experience.
"Our analysis showed that unavoidable background noise, common in many dealerships, can have an impact on the customer's experience of their personalised video.
"We're excited to bring the magic of Dolby.io to help retailers create top quality CitNOW videos for their customers, even in loud environments. We expect this enhancement to boost CSI scores, with more effective videos increasing business opportunities for retailers."
Car retailers consider personalised video their most valuable tool in the remote sellling environment of a COVID-impacted 2020, according to a survey conducted by CitNOW.
Its research, which will be explored in greater depth as part of a presentation at AM Live Virtual, revealed that four out of five (79%) motor retail staff value pre-recorded and live video communications highest, ahead of their dealer management systems (66.5%) and social marketing platforms (67.4%).
CitNOW's research also highlights how motor retailers in the UK are adapting to changing consumer behaviours and ongoing trading restrictions.
In response to the COVID-19 pandemic, CitNOW expanded its range of products to suit the increased demand for video-based services in the motor retail sector.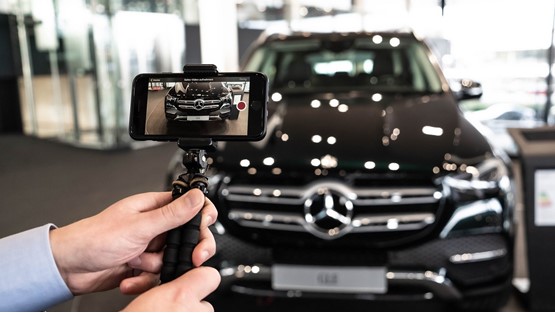 A total of 93% of respondents rated video as an important communication tool for keeping in touch with customers that are unable or unwilling to visit the dealership, above texts (81%) and social media messaging (72%), and behind only telephone calls (100%) and emails (99%).
87% of respondents believe it's more important than ever to invest in digital communications, due to the COVID-19 pandemic and over 83% of businesses have already invested in improving their video capabilities, with three-quarters (74%) of respondents stating that they felt customers value the relationship-building aspect of video the most.
A new integration bewteen CitNOW and iVendi allows finance options to launched straight from dealer videos. 
Horsborough said: "The current pandemic has been hugely challenging for motor retailers, but it's also been one of the biggest triggers for change.
"We've seen the significance of digital communications grow, with increasing numbers of retailers turning to video as a trusted tool.
"While consumers are prepared to return to showrooms, video is enabling businesses to prepare for all eventualities, and build trust and transparency at all stages of the sales and aftermarket process.
"We want to help sales staff and dealerships respond quickly to individual customer enquiries with a level of detail and emotional connection comparable to visiting a dealership."
In September, 1.06 million videos were created on CitNOW's Sales and Workshop apps, with 21% more customers watching received videos compared with the same month in 2019. Similar video production numbers were also seen in October this year.
CitNOW recently launched a new Live Video functionality within its Sales and Workshop apps, to allow direct face-to-face interactions with customers.
CitNOW reports, in November, the number of live video chats accelerated, with a 236% increase in weekly average Live Video sessions held with customers since national lockdown measures were reintroduced in England.