DNA Test: New Mahindra Thar vs old Thar – Feature
The original Thar has gone on to become priceless for brand Mahindra. It was raw, noisy and impractical, but what most people didn't realise is that it was built on an incredibly small budget. The kind that would not even get you a decent two-bedroom flat anywhere in South Mumbai. It was designed by an off-roader, for off-roaders, by an automaker that had a history with off-road vehicles. Needless to say, the Thar was a massive breath of fresh air. Finally, a vehicle that could comfortably do over 100kph on the highway and still perform flawlessly off-road.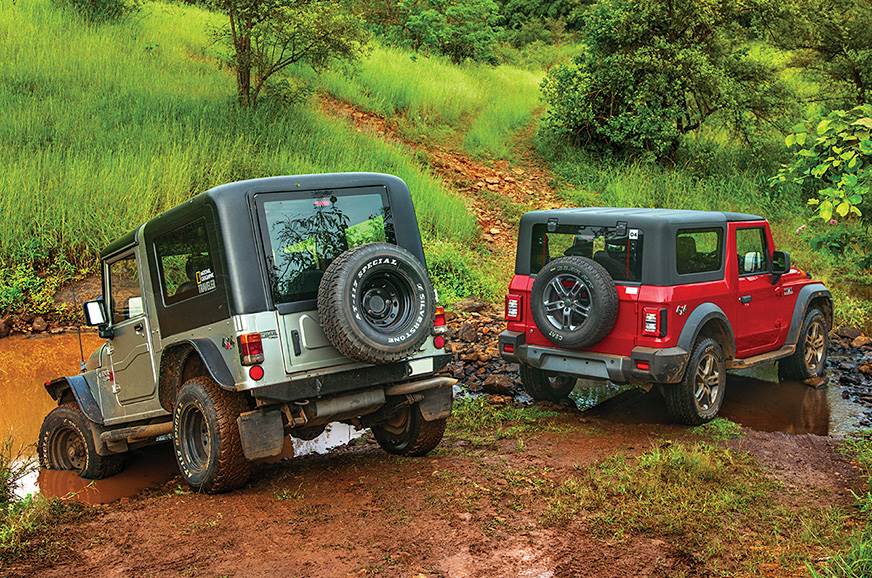 But, of course, it could have been more comfortable. And that is where the new Thar comes in. Mahindra clearly took its time (and money), and listened to what customers wanted – a more liveable space. And that evolution is exactly why we have brought these two together. Considering how the older Thar never had any real competition when it was launched, the new Thar also doesn't really have any direct rivals that are nearly as versatile. In a way then, the only real benchmark you can compare the new Thar to is the old one. So lets start by taking them where they truly belong – off-road.
Specifications
Mahindra Thar LX (Hard top)
Old Mahindra Thar
L/W/H
3985/1855/1844mm
3920/1726/1930mm
Wheelbase
2450mm
2430mm
Engine
4-cyl, 2184cc, turbo-diesel
4-cyl, 2498cc, turbo-diesel
Power
132hp at 3750rpm
105hp at 3800rpm
Torque
300Nm at 1600-2800rpm
247Nm at 1800-2000rpm
Gearbox
6-speed manual
5-speed manual
Suspension (Front)
Independent, Double Wishbone with Coil Springs
Independent, Torsion Bar
Suspension (Rear)
Multi-link Solid Rear Axle with Coil Springs
Non-independent, Leaf Springs
Brakes (Front)
303mm Discs
236mm Discs
Brakes (Rear)
282mm Drums
282mm Drums
Now, for the sake of this comparison, both cars here are diesel and manual, but apart from that, a quick look at the specs shows that these two are very different. The older Thar gets a 2.5-litre, turbo-diesel engine making 105hp and 247Nm, while the new Thar gets a 2.2-litre motor making 132hp and 300Nm. The new Thar also gets a 6-speed manual as compared to a 5-speed manual on the older one. In terms of underpinnings, the older Thar had an independent torsion bar front suspension and leaf springs at the rear, while the new one gets a more modern, double-wishbone, coil-spring front end and multi-link rear end.
Fitness For Purpose
On paper, the new Thar is better in almost every single way off-road. The ground clearance, departure and breakover angles, and water-wading depth are all superior. The older Thar does still score higher on the approach angle, but an 'on paper' comparison isn't what you came here for, is it?
Lets start with articulation – the amount of travel the suspension allows one tyre to have compared to the tyre on the opposite side of the vehicle. While driving off-road, grip is key, and what you need is your tyre in contact with the ground. The new Thar, with its coil springs, certainly tackles all the terrain you can throw at it, but with those coil springs also comes limited wheel travel. This is because a coil spring is limited by its free-standing height and a torsion bar isn't. And although the new Thar might look more dramatic on the outside with a wheel cocked up into the air, the older Thar actually scores a point here with considerably better articulation. The leaf springs at the rear also allow for more travel, while the front suspension on both cars have similar articulation levels.
Expect to see owners put on aftermarket bumpers on the new Thar too.
It is also important to point out that the more pliant suspension on the new Thar often tends to make the SUV bottom out on these obstacles, especially while driving at a slightly higher speed. And this is despite having better ground clearance. A more pliant suspension helps when driving fast on a flat trail, where smaller undulations and bumps are effortlessly soaked up by the more modern setup of the new Thar. The older one feels bouncier and relatively uncomfortable here, and throws you around a bit more too, especially when the rear tyres hit a big bump.
Getting to the middle of nowhere often means climbing up some very steep hills and coming down equally steep slopes. Both the Thars have a low ratio and both can be engaged with an old-fashioned lever that gives a very satisfactory clunk. Ergonomically, the new Thar has its 4×4 lever placed in the centre console on the left of the gear lever and you don't need to reach far for it.
Off-road capability
New Mahindra Thar
Old Mahindra Thar
Ground Clearance
226mm
200mm
Water Fording Depth
650mm
500mm
Approach Angle
41.8 degrees
45.3 degrees
Departure Angle
36.8 degrees
31.6 degrees
Break Over Angle
27.0 degrees
24.4 degrees
To keep things equal, both cars had to climb the same incline from a standstill in second gear. It's a 30-35-degree slope, which in off-road terms is quite easy, and while both Thars made it up the hill with no real issue, the way they made it up was totally different. While the old car needed the heavy-on-the-gas approach to keep it in its torque band, the newer Thar seemed to do it with no drama at all – no wheelspin, no kicking up dust; just a bootfull of torque and an effortless climb. And things were even easier for the new-gen Thar going down that hill. While in the old Thar you can do it the old fashioned way, by leaving it in 4 Low and first gear and letting the engine braking do its job for you, the new Thar has hill-descent control that lets even the most novice off-roader do frankly scary descents with absolute ease. So it's a clear 2-1 in favour of the new car, then.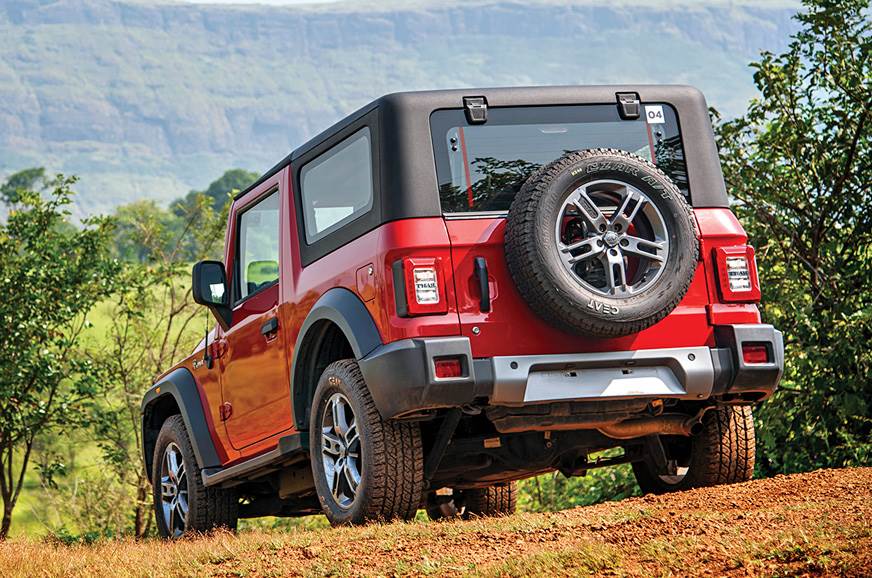 A hard top option now comes factory fitted and offers much better quality.
And so we come to water fording. Now, let me be perfectly honest, I personally hate putting a car through water if it doesn't need to go through it. Doing a water crossing when absolutely necessary (or driving through a Mumbai flood) is one thing, but driving into a pond or a river for fun is something that irks me. That said, as you can see on the off-road capability table, the new Thar can wade through 650mm of water, compared to the 500mm of the older car. This is primarily due to the intake being placed higher under the bonnet. And while that's the official figure Mahindra quotes in its brochure, we can tell you that it is capable of doing considerably more in the right hands. So, all said and done, while the new Thar does have a few Achilles Heels off road, overall as a package, it is better than its predecessor.
On The Road
Getting on road and driving these two cars back to back is when the huge gap between them really comes to the fore. Its not the added power or torque that makes the new Thar a much better on-road vehicle, but the advancements in refinement. It is quieter, smoother and frankly, even after a 150km drive, does not make you feel tired or worn out, as the old Thar would. Also, while the older Thar has a very small 1,800-2,000rpm torque band, the newer Thar delivers its 300Nm of torque from 1,600-2,800rpm! This means you don't have to shift gears as often, and that also means better overall fuel economy.
The generation gap continues to widen with the way the car handles. The new setup means that you can cruise over typically undulated bad Indian roads in a bit more comfort. Similar to how it behaves on a faster gravel trail, the new Thar does not get rattled as much. Okay, it still isn't as comfortable as a modern monocoque SUV over undulations, potholes and, of course, the random speed breaker or rumble strip that you are bound to hit on any Indian roads, but it's much better than the old Thar.
Performance
Acceleration (in kph)
Mahindra Thar LX (hard top)
Old Mahindra Thar
0-20
1.51 sec
1.14 sec
0-40
3.17 sec
3.18 sec
0-60
5.54 sec
6.10 sec
0-80
8.75 sec
10.4 sec
0-100
13.36 sec
17.05 sec
0-120
19.9 sec
30.07 sec
Performance in Gear
20-80 (in third)
10.28 sec
13.14 sec
40-100 (in fourth)
13.69 sec
19.45 sec
And the same goes for the brakes. Most of the older Thars, with the exception of those sold in the latter half of 2019, did not get ABS. The new one gets ABS with EBD and gives you considerably more confidence under both general and emergency braking. And it isn't just ABS, but also the eletronic stability programme or ESP with rollover mitigation and an inbuilt rollcage, that makes the new Thar a lot safer. Add the fact that two airbags come as standard, the new Thar does make a lot more sense as a safe family mover compared to its predecessor.
Extreme on Design
Mahindra's masterstroke of adding a set of nice big 18-inch wheels on the top-spec Thar with a set of 255/65 R18 tyres sets the tone. Considering almost all older Thars you see on the road have some sort of aftermarket wheel and tyre fitment, adding a good looking (and larger) wheel and bigger tyre straight from the factory means it starts off with a fantastic stance.
Tyre size comparison
New Mahindra Thar
Old Mahindra Thar
Tyre size
255/65 R18
235/70 R16
Diameter
31.1 inches
29.0 inches
Width
10.0 inches
9.3 inches
Sidewall
6.5 inches
6.5 inches
As with everything else on the Thar, the evolutionary character of the overall design language is unmistakable. Yes, Mahindra has had to ditch the iconic seven-slot grille that was reminiscent of the old Jeep CJ5 to skirt a legal tangle with the owners of the Jeep brand, but honestly, the new look grows onto you. And just like the larger wheels, Mahindra took note of what Thar owners end up doing to their vehicles aftermarket and have now offered things like daytime running lights, fog lamps and a hardtop roof as a factory-fitted option.
But Mahindra hasn't stopped there. It has also given the option of a folding convertible roof, making the Thar, in essence, the most affordable convertible in India. The doors are even designed to be removed, much like the Jeep Wrangler's. Luckily though, some things haven't changed; the butch stance, for instance. That said, and this is probably something I cant explain in words, but given a choice between the two purely on design, I would still prefer the older Thar any day.
What's inside that counts
An area that desperately needed an upgrade and, boy oh boy, has Mahindra delivered! The old Thar, even in its facelifted later avatars was sparse, for lack of a better word, and the earlier cars were an absolute ergonomic nightmare. All of those issues have been addressed in the new Thar. Firstly, just getting into the car is now easier since the doors are considerably longer and you don't have to squeeze in between the steering wheel and the B-pillar (especially if you are a larger person). And when you do eventually get in, you have a well-designed dashboard with a 7-inch touchscreen infotainment system that gets Apple CarPlay, Android Auto, built in navigation, and a function that shows you off-road data like pitch and yaw angles.
The new car also gets climate control, steering-mounted audio controls, cruise control and a well-designed instrument cluster that has a crisp information display. Another area in which Mahindra really heard its customers is the rear seats. Sure, they are slightly difficult to get into, but the fact that they are front facing (lower variants still get side-facing benches) with seatbelts and ISOFIX is noteworthy. And really, the new Thar is just a much nicer place to be in. No sharp edges, decent quality plastics, an AC that works well and, most importantly, a huge improvement in NVH levels with the hard top, all adds up to a much better driving experience.
Old single-DIN player gets outclassed by the new 7-inch touchscreen.
Muddy Genes
While there might still be a fair few people who love the rawness and the history that comes packaged with the older Thar, there is no denying that the new Thar is a quantum leap forward. More power, better comfort, better NVH levels and off-road capability that even in the hands of a novice is as good as the older Thar. Whether you are a younger customer who wants a bit of adventure or an older one who wants to relive a bit of their youth, the Thar really ticks all the right boxes. Unmatched road presence, the ability to endlessly customise your car and, of course, modern-day reliability and the choice of a petrol engine with an automatic are just bonuses to what will unmistakably be a future classic.
Also see:
6 new Mahindra SUVs to launch by end-2021
New Mahindra Thar: 5 things to know
In safe hands: Mahindra road safety campaign