Do You Need a Business License to Sell on Amazon in 2022?
Selling on Amazon is a great way to earn a few extra dollars as a side hustle or a full-time income. Before you get started, you need to ensure that you are keeping up with the legalities required of sellers with the online retail giant. So, do you need a business license to sell on Amazon?
Well in this article, we will go through your Amazon FBA business requirements to help you lay a firm foundation. We will cover when you need a business license and what type of business you may want to form.
Without further ado, here is everything you need to know about getting a business license to sell on Amazon.
Do You Need a Business License to Sell on Amazon?
This question can be answered by taking a closer look at the policies related to online marketplaces, but the short answer is generally no. Business licenses are not required for online marketplaces, including:
Amazon
Craigslist
eBay
Etsy
Facebook
Shopify
However, it may be a smart idea to get a business license for your Amazon FBA business if you intend to sell federally-regulated products.
A federal business license may be required for some of these products, particularly if they relate to transportation, firearms, alcohol, agriculture, or aviation.
If you choose to go the non-business license route; when you go to register with a seller account on Amazon, you need to check that you do not have a business license. In step five, you will enter that you are an individual which exempts you from needing to enter anything further.
In essence, you will be operating as a sole proprietor which does not legally require you to register as an LLC or to have a business license.
Should I Get a Business License for Selling Physical Products on Amazon?
Under what circumstances do you need a business license to sell on Amazon?
Mostly, the answer here depends on what type of products you will be selling. Certain items are federally-regulated and will require a federal business license.
However, many of these items are not going to be sold on the Amazon platform, including:
I've been selling products on Amazon since 2014.
Want to know the research tool I've been using since I've started (and still use today)? Get my latest tips and how to guide for using this tool.
Agriculture, fish, and wildlife
Alcohol
Aviation
Firearms or ammunition
Transportation and logistics (including maritime transportation)
Radio and television broadcasting
At the state level, you may also be required to have a business license if you engage in certain activities. Again, most of these activities will not apply to your seller account on Amazon as they pertain to auctions, construction, dry cleaning, and other service-based businesses.
If you are not selling products that pertain to these categories, then you do not need a license to run a sole proprietorship as an Amazon seller.
Do You Need an LLC to Sell on Amazon?
While you do not need a business license for most Amazon business opportunities, many would-be sellers are curious what legal entity their business needs to be. Should you file for an LLC (limited liability company) before you open the doors on your digital shop?
A limited liability company is great for entrepreneurs who are serious about their online sales business. An LLC is relatively common because it affords you some protection in the event your company gets sued. In essence, it's a legal entity that your business forms separate from your personal assets.
Sole Proprietorship vs LLC
Should you run your business as a sole proprietorship or an LLC?
Let's take a quick look at the benefits of each one.
Sole Proprietorship
A sole proprietorship is great if you want to get your business off the ground quickly. It allows you to start your online business without any required paperwork at either the federal or the state level. All you have to do is hang out your shingle as a new business owner and you are labeled as a sole proprietor right away.
Everything is tied to your person, including the debts associated with the business. If you fail to make a required payment or if you get sued for your Amazon store, they are able to come after your personal assets to make things right.
This also means that it may be more of a challenge to obtain financing for your business. If you think that you will want to take out a loan to get your Amazon FBA or Amazon dropshipping account off the ground and start with several SKUs in your storefront, then you may run into issues with establishing credit for your new business.
You may also have to file a "doing business as" (DBA) name if you don't want to sell under your personal name.
LLC
As an LLC owner, you enjoy more credibility than you would as a sole proprietor. Your business name is the same as what is on your LLC paperwork unless you file for a DBA name. However, the real reason to file for an LLC is to protect your personal assets.
When you run a business this way, your business assets and personal assets are separate. This is perhaps the best reason to file for an LLC for your online business.
Unlike a sole proprietorship, you will need to fill out paperwork with the state to open your doors as an LLC. It can cost anywhere from $50 to $300 depending on your state. In addition to your LLC, you may also need to get a business license which is an additional fee ranging from $50 to $100.
Over 80 percent of small businesses fall into the LLC category, so you are in good company if you decide to pursue this business structure.
When Should You Register Your Amazon FBA Business as an LLC?
When you get serious about your Amazon FBA business, it may be time to file for an LLC. As mentioned, this can protect you in the event that someone attempts to sue you. For instance, over the quality of the products or the claims that you make for your products.
While there are no real guidelines for when you may want to file for an LLC, it is a smart move to make regardless of how much you are earning.
You never know what could happen in the future, so it can be beneficial to put those worries to rest by opting for this business structure. While Amazon FBA may be a great side hustle for you or something that you do just in your spare time, you never know when things may take a turn south.
Give yourself some peace of mind by filing for an LLC as soon as you have the money to do so.
Difference Between LLC and Business License
While it is important to note that both LLCs and business licenses may be required of your new Amazon FBA business, you should know that these are not the same thing. Understanding the difference between them is essential to making sure you get the documentation you need to run your business.
Your LLC is a business entity that protects your personal assets. On the other hand, a business license is the documentation that you need to conduct business in your area. Business licenses get issued at the state, county, or local level depending on what you intend to sell and the industry that you work.
To determine if you need a business license for what you will be selling in your Amazon store, you may need to do a quick search for your city or county and "business license" on Google.
Advantages of an LLC
Personal Asset Protection
As we've seen, the biggest benefit from having an LLC is the protection of your personal assets. No matter what happens with your business, lawyers will view it as entirely separate from your personal finances and assets. Your house won't be on the line if you someone sues you over faulty product quality.
More Brand Credibility
When you operate under a business name, you are building a reputation for your brand. More buyers are likely to make a purchase from your Amazon FBA business if you have a business name instead of operating under your personal name.
Build Credit and Get Loans
An LLC makes it easier for you to build up your credit as a brand. This may make it easier to obtain financing for major purchases. When you want to invest in stock of your products for your Amazon FBA business, you will have an easier time doing so if you have been diligent about building credit under the LLC.
Disadvantages of an LLC
Cost
The only real disadvantage to getting an LLC for your online business is that it can be a bit costly. If you have minimal funds coming in from your startup, spending several hundreds of dollars on your filings can feel like a huge financial stretch.
Be sure to check what your state charges for an LLC filing. Find out if it is something you can afford right out of the gate.
It is also important to note that you will need to pay annual state filing fees. At tax time, it may also be more expensive to complete a tax return as an LLC over a sole proprietorship where all of your income passes through to your personal income.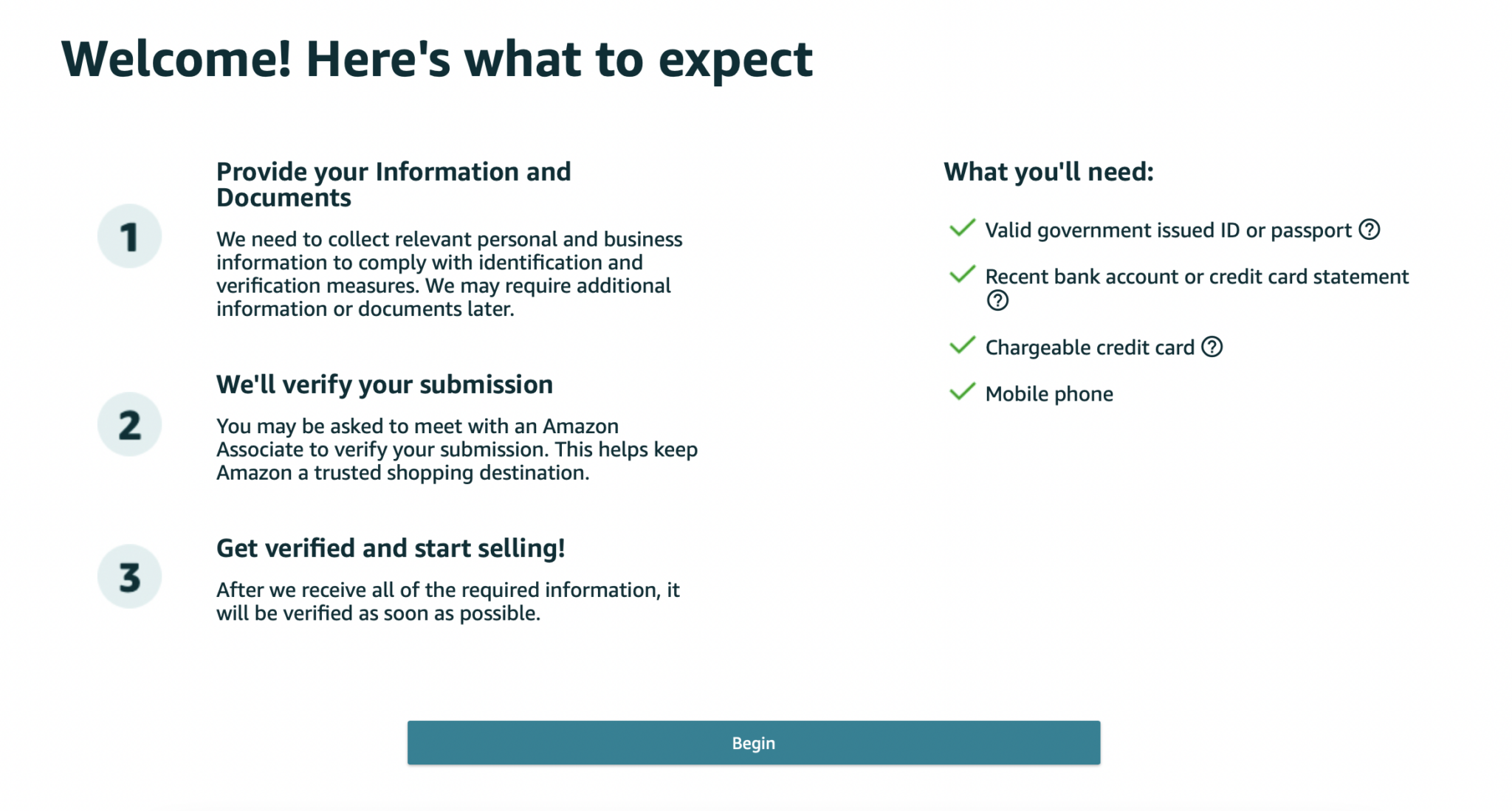 Do You Need an EIN to Open an Amazon Seller Account?
Closely related to your business license to sell on Amazon is an Employer Identification Number or EIN. Do you need one of these numbers to sell items on your Amazon store? The requirements here are a bit complex, but the short answer is: maybe.
If you are earning more than $600 annually, then you may need an EIN. Sole proprietors with employees or LLCs will need an EIN during the tax interview through Amazon Seller Central.
On the other hand, you may not need an EIN if you are a sole proprietor with no employees. In this case, you will need an ITIN or a social security number to complete the tax interview portion of your Amazon Seller Central account. Sole proprietors in this scenario are not eligible for an EIN.
Getting a Business License for Your Amazon Seller Account
While you may not be required to get a business license for your Amazon seller account, it can be a good idea to at least file for an LLC and an EIN. This offers more protection for your business, as you never know what may happen in the future.
If you have the capital to invest in this new side hustle upfront, filing for an LLC is a worthwhile investment of your resources.
A business license is only required if you are selling certain products, so this may not be necessary initially. Be sure to do some research on the local requirements in your area to see if a business license is necessary for your online ecommerce business.