How to Become an SEO Specialist and Work From Home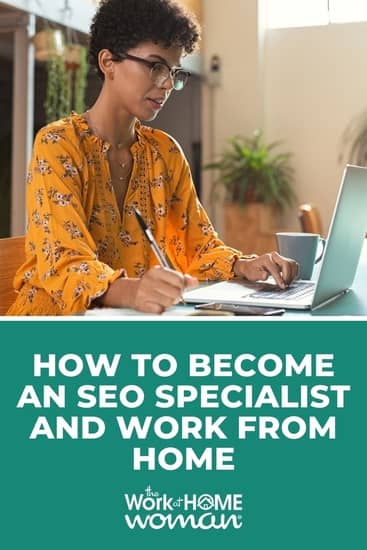 Having a computer and internet connection allows you the chance to be eligible for many different profitable home-based jobs. One job that is steadily rising in popularity is SEO work. SEO stands for search engine optimization. 
SEO specialists are highly sought after to help businesses and websites rank better for certain topics on search engines like Google. This is a great way to make money from home and help businesses meet their goals and further their mission. 
Even if you're not too familiar with SEO best practices, there are many training and entry-level opportunities to help. Here's what you need to know to get started.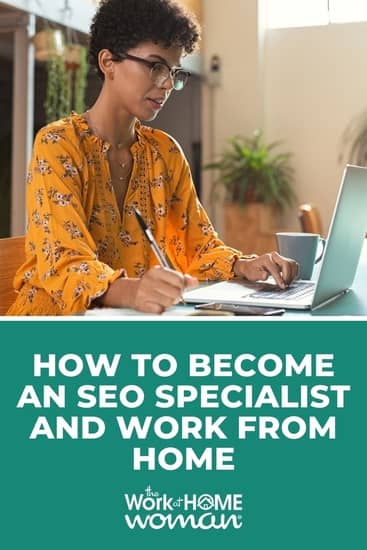 What Is an SEO Specialist?
An SEO specialist is someone who's an SEO expert, whether that involves providing consulting or a done-for-you service for clients and customers. Search engine optimization is essential to many businesses because it plays a significant role in how they are discovered online. 
Billions of people use search engines each day to find things. Think about how easy it is to type in something like 'healthy dog food' and have relevant websites and articles appear in your search results. 
SEO helps make this possible by utilizing algorithms that factor things like keywords, meta descriptions, and so on to help websites rank higher in search engines. This allows people to find these companies and websites when they search so they can potentially buy a product or service. 
The role of an SEO professional could include a number of tasks, including:
Optimizing content like blog posts, web pages, and even social media content
Collaborating on content marketing strategies across multiple platforms
Researching keyword relevance and ranking
Internal and external link building
Testing out strategies with new campaigns and promotions
Building or assisting with search engine marketing campaigns through advertising
Assisting with or reporting on technical SEO, which looks at website infrastructure
Writing meta descriptions
Competitor analysis
Monitoring and reporting on key metrics
Study and Get Training
The first step to becoming an SEO specialist is to study or obtain some type of training. This will help develop and increase your SEO skill set. While some remote positions may offer training, SEO is one area where you'll be expected to know a lot in order to get the job.
Some people decide to get a certification that proves their understanding of SEO. The bottom line is that you need to know more than your employer or clients to land a reputable job in this field. 
When it comes to learning SEO, you don't want to learn from just anyone. The information needs to be accurate and proven. What better way to ensure this than by learning from the top search engine in the world, Google? 
Google has a few resources to help anyone learn SEO, including their Google Analytics and Search Engine Optimization Fundamentals courses. Yoast is another credible SEO tool that offers a free and paid training course. If you can get certified, this will only improve your credibility when applying for jobs. 
While a bachelor's degree is not always required, studying digital marketing either online or at your local community college wouldn't hurt. SEO specialists also need to understand basic marketing and how this service impacts a company's marketing efforts. 
Start Testing and Gaining Experience
It might be hard to find an SEO specialist job from home if you don't have a proven track record. Luckily, it's not difficult to gain the experience you'll need for paying work. 
Once you complete your SEO training, start testing out the search engine optimization tactics you've learned on a personal website or blog. It's easy to get started on WordPress! If you know anyone who's willing to let you use their website, you can offer free SEO services as you work to get positive results. 
Consider using tools like Moz.com, SEM Rush, Ahrefs, and Keywords Everywhere to get started. These websites will help you with keyword and competitor research, link building, and more to improve your SEO skills, generate clicks, and build organic traffic. Implementing what you've learned is crucial and will help you gain more hands-on experience for paid work in the future. 
Apply For Remote SEO Specialist Jobs Online
One of the best things about working as an SEO specialist is that most of the time, you can work from home. All you need is a computer and the internet, along with a few SEO tools or websites to do your job. This makes it easy to have a more flexible schedule and take your work with you wherever you go. 
SEO expertise is an in-demand skill, as many companies are looking to get a leg up on their competitors. While larger companies are likely to have their own in-house SEO departments, the most common places you will find SEO jobs are at marketing agencies or dedicated SEO agencies. There are many SEO job listings on sites like Indeed, FlexJobs, Robert Half, Upwork, and LinkedIn. Holly also has a big list of remote marketing jobs here, which includes SEO specialists.
Requirements
Most positions require at least 1 to 2 years of relevant SEO experience. Certifications are not required but may be preferred or help you qualify for the job. 
In some cases, employers like to see that you have a degree in marketing, computer science, or business. Equivalent education and hands-on SEO experience can also replace this education requirement. Other requirements include:
Strong research skills
An up-to-date, working knowledge of current, past, and projected trends in the SEO industry
Experience with website analysis and various analytical and reporting tools
Strong attention to detail and the ability to multi-task
Start an SEO Business
Another way to work from home as an SEO specialist is to offer freelancing services or start your own SEO consulting business. If you feel confident in your skillset and ability to get results, start marketing your services to other small business owners, bloggers, or entrepreneurs looking to improve their rankings. 
As an SEO consultant, you can offer 1-hour consults, website reviews, workshops, or even create and implement an SEO strategy for clients. Running an online business is cheaper than operating a brick-and-mortar store, so you will have lower start-up costs. Plus, you can also set your own rates and schedule according to how often you'd like to work.
How Much Can You Earn?
A trained remote SEO specialist can expect to earn an average salary of $40,000-$60,000 per year, according to Glassdoor. If you're just starting out, you may expect to earn around $30,000-$35,000. Once you gain more experience, however, your value in the workplace will increase, and you can expect to earn more. 
Do You Have to Guarantee Results?
With SEO work, it's common to feel the pressure to generate certain results. On the bright side, most legitimate companies and clients looking for SEO help will have realistic expectations and understand that it requires a bit of time and lots of testing to see positive results from an SEO strategy.
That said, don't settle for working with anyone who has unrealistic expectations or wants you to promise specific results in a set timeframe. This is just not possible and should be a red flag.
The tactics you'll learn through Google's courses and training programs are proven to work, and part of your job is to stay on top of changes in the industry. Plus, most companies will provide you with additional opportunities to learn on the job and improve your skillset. 
Summary
SEO work has become a very popular and well-paying field. There are so many websites, and many people would like to improve their search rankings and organic traffic. You can use this opportunity to break into a new field as an SEO specialist, work from home, and earn a full-time income.