I Tested This AI Copy Tool, Here Are My Thoughts
More and more companies are coming forward with AI content tools. A newer company to hit the market is called Crawlq.ai. Its founder Harish Kumar has been doing some amazing things with AI in content marketing. I like to think of Crawlq as a bit of an "indie" software. It's got a lot of potential, but not quite "there" yet. 
Crawlq.ai is an AI copywriting tool that claims to research your target audience and generate highly personalized insights, stories, questions, and answers. Their homepage states that the tool is a content automation software that scales and cuts writing time in half.
You can get started in minutes, however, the system is a bit overly complicated and user reports of the site crashing are a bit too common. The learning curve is also a bit steep, but it can generate highly personalized content that is 100% unique and optimized for any target audience.
We decided to put this AI content generator to the test with a full Crawlq.ai review. We've tested it to see just how well the AI technology can hold up.
Is the content actually any good? Can AI content pass for human writers? Let's find out.
Do you want to try Crawlq.ai out for yourself?
Crawlq.ai has an entry plan for beginners, and they are currently running a Lifetime Deal on AppSumo!
What is Crawlq.ai?
According to Linkedin, Crawlq.ai was founded in 2019 and has 12 employees, primarily located in the Netherlands. 
For being around a little over 2 years old, traction is looking good. Crunchbase shows the team raised a seed fund of $350k from a few different investors. According to Crunchbase, Crawlq.ai was funded with $350k by its founder Harish.
Who is the tool best for?
Crawlq.ai is best for Product Design Engineers, Product Managers, CTOs, SaaS CMOs, Sales and Marketing Technology. It specializes in serious content writers that are looking to put the time and effort into learning and using Crawlq.
While most GPT3 writers seem to make things easier, Crawlq is almost more complicated. While I wouldn't be able to vouch for the tool today, I do see its potential, and there are probably users that are crushing the data-driven content Craqlq is generating, but it will likely take a bit of time to train the model and learn the software. 
It focuses primarily on a few different types of services:
Market Research – what makes Crawlq different from other AI content writers is that it has features like Marketmuse to help build content that is relevant to your audience
Workspaces – allow you to target your content more specifically to train the AI writer to consistently write better content.
Spying Wizard – another SEO feature to leverage the AI content
Crawlq has a specialized data-driven content builder.
It's one of the only AI tools that we have seen that actually accounts for the niche to continually build content that makes sense for the audience. This means it takes a bit longer to get set up, but in theory, if done properly, could result in producing much greater content accuracy over time. 
How To Use Crawlq.ai
It is very easy to get started using Crawlq.ai
I really want to like the tool, but the learning curve seems a bit steep. At times, I would rather just write the content instead of using the overly complicated processes. Their YouTube Channel has a lot of well-produced tutorials that can take you step-by-step through creating each type of copy that you need, but there's still a steep learning curve.
Here's a look at the inside of Crawlq.ai and how to use a few of the features.
Let's say I wanted to create a current environment and trends text report. 
The initial screen when starting with the content optimization feature gives you tons of options. It's a bit overwhelming. But each one is designed to create a slightly different output depending on your goal. 
For this example, I chose to generate text on the current environment and trends. I entered a couple of details in using Niche Pursuits as the source of data. 
Here are the results that it generated.
Results are generated to the right side of the inputs. It's a bit confusing as they have both a section for trends and insights.
The trends section actually generated 1000+ words. This is more than most all other AI content tools typically generate. That being said, I'm not sure if any of the 1000 words would actually be able to be used.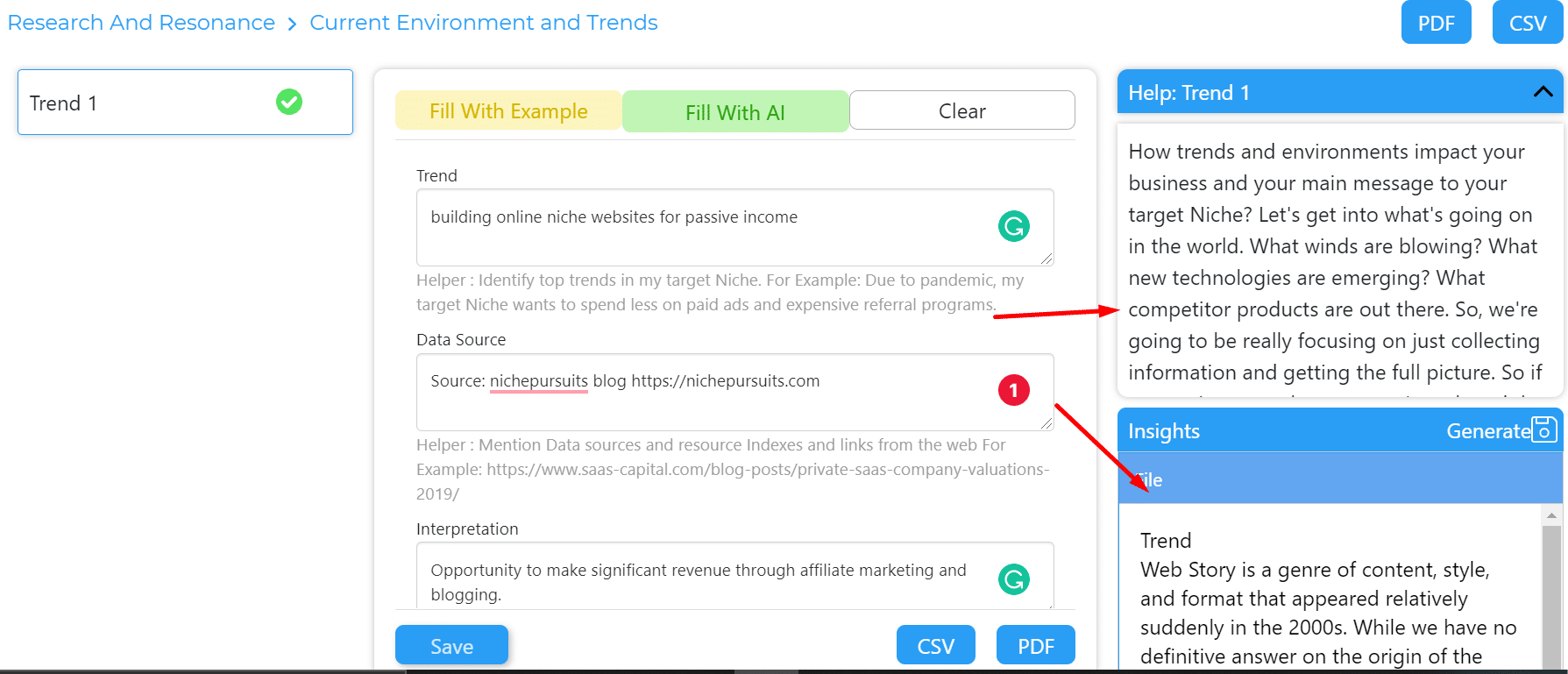 After reading through the article, I found that not much of it makes sense.
This could be an issue with the way I seeded the content, so I tried again using one of their examples. Again the content was overly difficult to read. It should be noted that I did select a market research option to generate text so generating content that is more difficult to read was expected, but this content isn't likely suitable for blog content right out of the gate. 
Next, I tested out the 'creating a full blog post' feature. I started by asking the AI content to generate a post about ice cream. In particular 'Outdoor Projects for Kids.'
After just a few minutes the results are in. It's not actually the full post yet though. 
Similar to how MarketMuse would give you title suggestions and keywords CrawlQ is doing a similar process. It put together a content brief. But it was pretty bare. It's not going to automatically generate it for you perfectly on the first try, but it does provide some good places to start.
I wanted to take it a step further to see what kind of content it would generate so I tested the 'create heading' and 'write me Athena' options.
I was able to create 300 words in less than a few seconds. This content did seem a bit better than my initial tests. 
Grammar and Spelling
A lot of effort has gone into improving machine learning algorithms to produce more natural-looking content generation. It's not perfect yet, but it has got a lot better in recent years.
Grammarly is great for recognizing certain grammatical mistakes in your writing and flagging them for further consideration.
To test how good the Ai-generated copy from Crawlq.ai is, I ran the paragraphs through Grammarly. Surprisingly it did pretty well, scoring a 98% overall rating.
These are the writing issues that came back. The Grammarly score was 98 which is better than some of our other tests, but it's only 300 words so it's a bit smaller of a sample size. 
Grammarly itself isn't the best judge of content quality, but if you're familiar with the tool then you'll know this generally means the content is acceptable. It may just need a few changes to put it into your voice or to adapt it to your preferred style of writing.
Plagiarism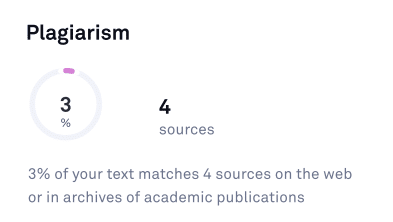 When it comes to plagiarism with the AI copy generated by Crawlq.ai, Grammarly detected 8 % plagiarism.
This is typically about right, especially if you're used to checking longer blog posts for plagiarism. I find these usually come back with a 1 – 2% plagiarism rate (which is usually from totally unrelated content).
Accuracy
When it comes to AI-generated text, accuracy and truthfulness can be big issues.
For example, if you are writing a blog about survival knives, but the content comes back with kitchen knives, the reader is bound to be confused. 
Accuracy for Crawlq was actually pretty difficult to see with just our initial tests, but it has the most potential by far for AI tools we've seen so far when it comes to accuracy. 
Crawlq appears they are training models in the background, the accuracy using the tool could actually be pretty good.
In one instance when testing I asked the tool to create content on a topic, but the project niche I had selected previously was completely different. The results were a mesh of the two which didn't make any sense. This is actually a good thing (if you input correctly) as it means the content creation is taking into account the custom inputs that are generated when creating the projects. 
Key Features
Crawlq.ai also has a handful of other key features and benefits:
Search discover

heading generation

offer and call to action text creation

AI Content Rewriter

AI Content Summarizer
Crawlq.ai Review
All-in-all my first impressions and experience with Crawlq.ai are that it can be a useful and helpful tool for the right person.
As I mentioned previously, I really want to like the tool, but the learning curve seems a bit steep. At times, I would rather just write the content instead of fussing about with the AI writing composer.
To benefit from the tool you would need to use it seriously and consistently – this is not a tool to simply help with "writer's block" as many of the other tools such as copy.ai or copysmith.ai claim to do. 
The truthfulness and accuracy will need to be checked with certain topics – especially those relating to the health and well-being of people and animals. However, for the most part, it's OK.
This is one of the more complicated AI tools, though maybe artificial intelligence is supposed to be a bit difficult.
It would have been nice to see a few more tutorials and show how users are leveraging Crawlq for best results. In the initial videos, often time the founder talked about content in general. But the tool does seem like it has a lot of potential if they can get the user interface a bit more user-friendly.
As with all AI tools, it's a new and exciting time so there is only room for improvement with Crawlq. 
Used in tandem with good content optimization tools and the likes of Grammarly, I wouldn't rule it out. Try the Basic Package to test it out for yourself.
Crawlq.ai Pricing
Pricing starts at $79/month .
The basic package does have a limit of 20 documents per month. Their pricing page also has the option for a "starter" package, but it is unclear as to what this pricing entails. 
Crawlq.ai Alternatives
If you don't think Crawlq.ai is right for you, there are plenty of alternative AI copywriting services available.
Other AI ad copy and AI copywriting software:
Conversion.ai

Copysmith.ai (best for longer-form blog content)

Jarvis (best for social media and advertising copy)
All tools are priced relatively closely with similar features, and also can also be tested with free trials.
We're just beginning to see what these AI-content tools can do, and I expect them to get a lot better in the near future.
Who knows where this will take online business and blogging?
Do you want to try Crawlq.ai out for yourself?
Crawlq.ai has an entry plan for beginners, as well as paid plans starting at $79/month.