Posthaste: Pain at the pumps? There's more fuelling those high gas prices than the cost of crude
Good Morning!
As oil hits US$120 today on growing fears that rising demand will overpower tight supplies, another problem looms on the horizon for consumers of fossil fuels, economists warn.
Global refinery capacity is being stretched to its limit, raising the price of petroleum products like gasoline and diesel even more than the soaring cost of oil, says Capital Economics.
The reason: Russia is the world's second largest net exporter of both crude oil and petroleum products. But while crude oil exports have been little affected by the war in Ukraine, its export of petroleum products, which are mostly shipped by sea, has halved.
As well, Russia exported more of its refined product to the West. In 2020 before the war, 75% of petroleum product exports went to Europe and the U.S., compared with 55% of crude oil exports.
The missing supply has put pressure on the world's already stretched refining capacity.
"The fall in Russian product exports comes as globally refineries are already operating close to capacity, so there is limited scope to raise output elsewhere and offset the supply loss," writes Edward Gardner, Capital's commodities economist.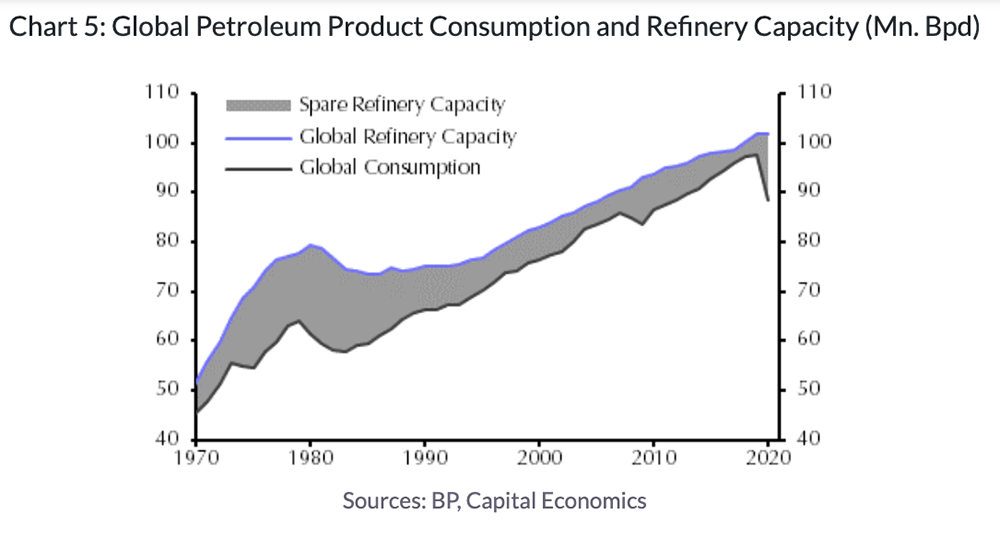 Refining capacity has fallen in western countries in recent years as investors and policy makers move away from fossil fuels.
In fact, in a recent interview on Bloomberg TV, Chevron Corp.'s CEO Mike Wirth warned that there may never be a new refinery built in the U.S.
"We haven't had a refinery built in the United States since the 1970s," Wirth told Bloomberg.  "My personal view is there will never be another new refinery built in the United States."
Refining capacity has increased in China and the Middle East, but globally, petroleum product consumption has grown faster.
"With global oil demand now around pre-pandemic levels, and the IEA estimating that global refinery capacity fell in 2021, refineries are stretched. In a hypothetical product market without Russia, there's just not enough capacity," wrote Gardner.
Unplanned refinery outages are another risk, especially along the U.S. Gulf Coast, which forecasters warn could be facing an above-normal hurricane season.
Consumption is also showing no signs of slowing down, said Capital. Even though higher fuel costs will crimp demand, the global economy will be bigger by the end of this year, requiring more product.
Oil has shot up almost 60% this year as rebounding demand combined with a tightening market after Russia's invasion of Ukraine.
Petroleum product prices normally rise in line with crude prices, but recently they are showing a growing premium.
Gasoline prices in the U.S. hit US$173 a barrel in the second quarter of 2022, compared with US$79 in the period of 2016 to 2021. Diesel was even higher, fetching US$191 a barrel.
Capital does not forecast prices of petroleum products, but expects the premiums over crude to remain historically high over the next year at least.
That premium is showing up in gas stations across Canada. The national gas price hit nearly $2.06 on Sunday, up almost three cents from the day before and 11 cents higher compared with a week ago, said the Canadian Automobile Association. Some forecasters expect it to reach $2.12 by this afternoon.
And as North America gears up for what is typically the heaviest time of year for consumption, the refinery bottleneck is already raising the spectre of fuel rationing in the U.S., reports Bloomberg.
On the east coast of America, stocks of diesel and heating oil, have drained to a new low in records going back to 1990 and gasoline supplies in the New York region fell to their lowest level for this time of year in records going back to 1993.
_____________________________________________________________