Sponsored feature: Mercedes-Benz GLE: Stronger than ever – Feature
A car is an extension of who you are. It's a reflection of how you think and feel. It is a statement of not only what you have achieved, but also how you have grown. And for those who have grown to understand that power can be elegantly balanced with luxury, refinement and the best in technology, there are the Mercedes-Benz GLE SUVs. Designed for those that enjoy that elegant balance there are three variants of the Mercedes-Benz GLE LWB. For those that prefer an extra dose of refined aggression, there is the Mercedes-AMG GLE 53 4Matic+ Coupe. And both versions provide something that only Mercedes-Benz vehicles excel at – being luxuriously-appointed accomplished all-rounders.
The Mercedes-Benz GLE LWB
Unparalleled comfort. That is the focus of the Mercedes-GLE LWB. This is a thoroughly modern SUV that allows you to go almost anywhere without putting a hair out of place. Every single thing about every variant of this SUV, including the engine, the suspension, the features and the interiors have been fine tuned for driver and passenger comfort. Speaking of variants, you get to choose from two diesel options the GLE 300 d and the GLE 400 d and an all-new petrol GLE 450 4MATIC version with a first-in-India EQ Boost technology. The GLE 300 d is an upgrade from the GLE 250 d which was the best-selling Mercedes-Benz SUV in India. The GLE 400 d and the GLE 450 4MATIC are the new top-end variants.
Design & Comfort
All variants, however, share a distinctive, elegant design. The Mercedes-Benz GLE's sheer size makes a strong first impression. Its signature raked-forward C-pillar that makes it easy to identify on the move. Its powerful shoulders give it a wide, planted stance. The LED high-performance headlamps with the two LED bars subtly indicate that it's the E-Class of SUVs. The ridges on the long, gently-sloping bonnet and the tight lines around its nose complete the elegant, yet powerful look.
The design story continues on the inside with an added layer of luxury. The comfortable and supportive ARTICO man-made leather seats on both rows are electrically adjustable and recline for added relaxation. Then there's the massive legroom thanks to its extended wheelbase. The ambient interior lighting system presents a choice of 64 colours at the owner's disposal. And let's not forget the panoramic sliding sunroof that adds a dimension of lightness and space to the interior like nothing else.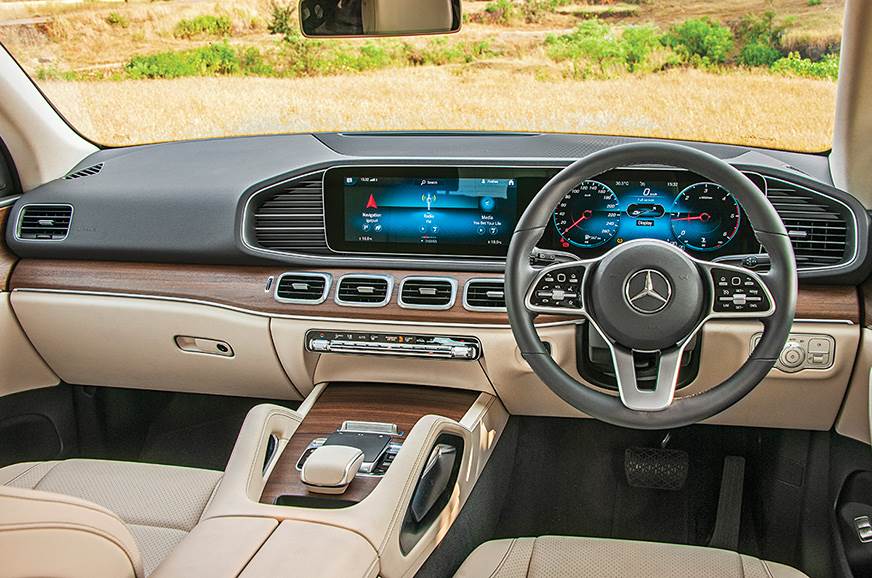 Technology & the MBUX Advantage
A highlight, though, is the technology. Take the MBUX infotainment system – an intelligent natural voice control and touchscreen system that learns about the driver's habits and preferences to control the many features of the Mercedes-Benz GLE LWB. The system includes MBUX interior assist that smartly differentiate between the driver and passenger. The widescreen cockpit with two customisable 12.3-inch displays, control a host of functions while sitting elegantly in the dashboard. The multi-function steering wheel offers perfect control while driving and has touchpads so you can control the infotainment system without letting go of the wheel. The MBUX system also features Hard-Disc navigation that displays high-quality 2D or 3D maps to help you plan your route. The result, thanks to the intuitive MBUX system, is an SUV that, over time, becomes personalised to your preferences.  
Performance
Despite the size of the Mercedes-Benz GLE LWB, there's enough oomph in every available engine to make this SUV feel light on its feet. With the GLE 300 d, it's hard to believe that this responsive engine displaces only 1,950cc. The twin sequential turbos and the 9-speed gearbox also help. The GLE 400 d is the most powerful diesel engine that Mercedes-Benz has ever made and churns out 330hp and 700Nm of torque.
Power Up with EQ Boost
The petrol GLE 450 debuts a straight six 3.0-litre petrol engine that generates 367hp and 500Nm of torque. Its special feature is a 48V EQ Boost mild hybrid system that provides a 22hp and 250Nm boost to the engine. This system features an integrated starter-alternator that boosts and recovers energy. What this translates into is higher efficiency and a 0-100kph time of 5.7 seconds.
However, if your quest for power isn't satisfied, there is another option.
The Mercedes-AMG GLE 53 4MATIC+ Coupe
This is the first of the powerful AMG 53 series in India. It unleashes a new level of performance by combining sporty design, performance and efficiency with hybrid power. The athletic new Mercedes-AMG GLE 53 4MATIC+ Coupe wears this incredible power well under its captivating, elegant, striking, and distinct design. It is powered by a new AMG growl generating twin-turbo 3.0-litre, in-line six-cylinder engine mated to a 9-speed gearbox that churns out 435hp. It's enough to hurl its 2250kg bulk from 0 -100kph in 5.3 seconds. But there's more. Throttle response gets a boost from a 48V EQ Boost system that features a start-stop system that adds efficiency. It also sharpens low-end responses and adds up to 22hp and 250Nm of torque.  It also features AMG's active ride control that makes pushing this SUV around corners very safe yet very exciting. This power is balanced by a healthy dose of intelligence with the Mercedes me connect (MMC) system. It includes a communications module that keeps it connected to the internet giving you access to a host of services and a personal digital assistant that can be used to learn about the status of the GLE 53, navigate routes, set reminders, and book appointments.  
 So, if you've grown enough to enjoy the trappings of luxury, refinement, power and the prestige of a three-pointed star, the only way to show you've arrived is in a Mercedes-Benz GLE SUV.